Cliff Grand-Scrutton
Director/General Manager
Cliff has over 30 year's experience in executive and senior management roles in the healthcare sector.
Cliff has been the catalyst in driving Larchfield House to become the specialist dementia home that we are today. He motivates the team to excel at a high level while developing their skills so everyone can grow into their roles accordingly.
Paula Campbell
Clinical Services Manager
Paula (Polly) has worked in the care industry for over 30 years in various roles ranging from domestic assistant to Care Home Manager. Polly qualified as a registered nurse 11 years ago and her passion has always been to support individuals with dementia.
Polly ensures Clinical standards are met in collaboration with relevant medical professionals, residents, their families/friends or advocates. Her aim is to ensure that our residents individual needs are met through a meticulous care planning process.
Polly will also complete the clinical assessments for prospective residents and act as the clinical contact for Larchfield house will all our partners to ensure delivery of safe & effective care.
Maschelle Dimayacyac
Matron
Maschelle is a highly qualified and practiced nurse from the Philippines before she came to the United Kingdom in 2009.  She went through the Nursing Education program and successfully completed her bachelor's degree in Nursing and Healthcare at the University of West London. 
She also passed her IELTS exam, NMC Computer based test and the Objective Structured Clinical Examination while working at Larchfield House. Maschelle is a dedicated and compassionate Nurse with over 12 years of experience in various roles in the Healthcare setting from Senior Healthcare Assistant, Team Leader, Registered Nurse, and Community Manager with an expertise in Dementia care. Maschelle is a proven leader and effective in working and guiding healthcare professionals toward achieving high-quality care to her residents. She is also a Trusted Assessor of NHS Continuing Healthcare and supports and trains our Overseas Nurses.
Monica is a registered / ICU trained nurse with 40 years of experience. She trained at Kenyatta Medical Centre in and worked at Kenyatta National Hospital in Nairobi, Kenya. 
Her dedication and leadership skills were spotted at a young age, and she was promoted to a Sister and then to a Matron in quick succession. She was the Matron in charge of Renal Dialysis for 3 years before relocating to the UK to work as a Registered General Nurse. Monica has previously worked as a Clinical Lead and was responsible for the turn around of underachieving Nursing homes. Her experience is highly valued by the rest of the Clinical team when they look to her for guidance during the Multi-Disciplinary Team meetings. Monica's utmost attention to detail means that she truly provides the highest quality care for her residents. 
Dave Edwards
Qualified Prescriber
Dave is an experienced Specialist Paramedic who is a qualified prescriber. He has over 30 years of experience and currently works at Claremont surgery in Maidenhead.
His role is to run clinics and undertake acute home visits. Dave has a broad knowledge in all fields of care and is professional, caring, and courteous. Dave is present at Larchfield House Monday to Friday providing proactive support for the Nursing team and liaises with all our GP surgeries. He ensures the medical needs of our residents are well met.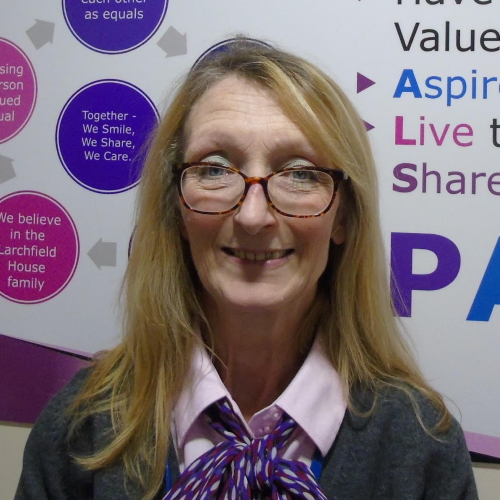 Jane Parker
Wellbeing Manager
Jane has been with Larchfield House for the past six years and has worked in the care industry for the last 10 years.
Jane started at Larchfield House as an Activity Co-ordinator working with the residents evaluating their needs and correct methods of stimulation. Jane progressed to Wellbeing Manager in 2018 so she could support and develop the wellbeing and stimulation of our residents. Her ethos is to provide a person-centred approach for all our residents, providing the most suitable care and ensuring our residents health and wellbeing is promoted at all times.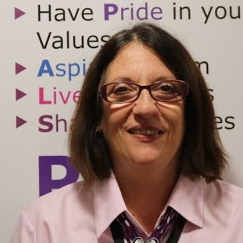 Christine Lionel
Administration Manager
Chris has worked in numerous senior administration roles and has also worked for a Clinical Trials company within the Pharmaceutical sector.
Chris has worked at Larchfield House for over 11 years. Her knowledge and experience of administration, financial procedures and care home operations allow her to streamline processes. Chris is also head of Human resources, advising on recruitment processes and employment law. Chris is always happy to help with information and advice.
Lenuta Barbu
 Activities Coordinator
Lenuta started working at Larchfield House as a Health Care Assistant four years ago and has completed her NVQ Level 3 in Health & Social Care. Lenuta promotes inclusion, equality, and diversity within her job role.
Lenuta progressed to Activity Co-Ordinator at the beginning of this year, bringing her amazing organizational and creative skills to support our Activities Team. Her aim is providing activities that support and benefit the wellbeing of all our residents. She focuses on their emotional, spiritual and physical needs as well as ensuring a variety of activities are provided and that no day is the same.
Lenuta's quote – How you make others feel about themselves, says a lot about you.
Kayleigh Djouadi
Head Chef
Kayleigh is an experienced Head Chef who has continually developed her career by working in high end establishments growing her knowledge and skills.
She started her career at Renaissance Hotel in Heathrow as a Pastry Chef before working for the Ministry of Defence where she provided high end catering for the Officers' Mess and also had the opportunity to cater for numerous events such as balls and Gala Dinners.
Kayleigh brings 24 year's catering experience working at the highest level along with a wealth of food and nutrition knowledge to support our residents. She is passionate about engaging with our residents to find out their likes and dislikes to ensure that we provide the food that they enjoy and love.
Laura Moody
Joint Head of Housekeeping
Laura has been with Larchfield House for over 9 years in the Housekeeping team and has worked her way up to Head of the Housekeeping.
She is truly dedicated to keeping a high standard of cleanliness across the home and leads our dedicated laundry service which supports all our residents with washing, ironing, and labelling requirements. The Housekeeping Team is not only to ensure that cleaning standards are high but to work with the Care team to ensure the daily life of our residents runs smoothly. There is always a chat to catch up on whether it is the latest news or the community activities.
Lucica Coropciuc
Joint Head of Housekeeping
Lucy has worked for Larchfield since 2018 having previously worked in Senior Housekeeping Roles at high-quality hotels giving her excellent background in industry standards.
Lucy has an eye for finite detail and will go the extra mile to ensure that all staff work to her exacting standards, taking pride in making sure Larchfield is safe and clean for our residents. Lucy and her team also enjoy being with the residents every day to socialise and get to know them.
Ashley Cross
Activities Supervisor
Ashley started as a Health Care Assistant on Test Community over 4 years ago where he really enjoyed being part of a great team.
An opportunity arose to join the Activity Team which Ashley saw as an opportunity to extend his knowledge of Dementia and to work with our wonderfully dynamic residents. Ashley explores avenues to understand our resident's life history which he finds very rewarding and has now progressed to Activities Supervisor. He has a great knowledge of connection and communication to provide a person-centered approach for all our residents to meet their stimulation and social interaction needs.
Attila Balint
Head of Maintenance
Attila has worked at Larchfield since March 2016 and has many years of experience in the building trade, he has taken the Maintenance department to a diverse, flexible and expert level.
There is no job too small or difficult that Attila will not find a solution for, be it plumbing or carpentry. Attila ensures his team maintains the highest standards of presentation and serviceability throughout the home. The team are the silent knights in armour for Larchfield providing a safe, efficient and effective service.