Palliative Care
Larchfield House provides specialised medical care for people living with serious illness. We take a holistic approach and work closely with families to make sure residents are provided with the best care possible. Our Clinical Team work closely with our in-house Paramedic Prescriber to ensure medication is managed efficiently and we support resident's families with emotional and practical support.
Palliative care is about helping people living with a terminal illness and everyone affected by their diagnosis to achieve the best quality of life.
At Larchfield we have a dedicated unit in the home, staffed by a team of highly trained and professional staff. Our aims are to continue to look after the resident though their whole journey. We believe very strongly that every person should have absolute dignity in every form until that sad but inevitable ending we will all have to face.
Palliative Care improves the quality of life of patients and that of their families who are facing challenges associated with life-threatening illness, whether physical, psychological, social or spiritual. The quality of life of caregivers improves as well.
Get in touch with us today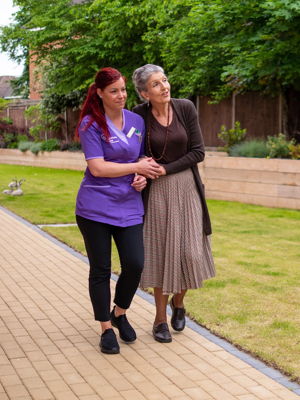 Goals Of Palliative Care
The goal of palliative care is to relieve the suffering of patients and their families by the comprehensive assessment and treatment of physical, psychosocial, and spiritual needs experienced by patients. Since it's based on individual needs, palliative care can be quite different from one person to the next.
Physical

Pain Management
Treating Symptoms
Assistance With Living

Psychosocial

Counselling & Therapy
Fulfil Goals & Desires
Helping Families & Loved Ones

Spiritual

Connection
Finding Purpose
Closure